Designing your own business card is easy when you follow these great tips from our professional graphic designers. Creating your own artwork is a great way to lower your printing costs and make ordering your business cards online easier than ever.
Remember that your business card is often the first point of contact a potential customer has with you or your business so it's important to make your first impression a lasting one. If you design your own business card or have a designer create one for you, make sure you consider the following points before you send your order to print.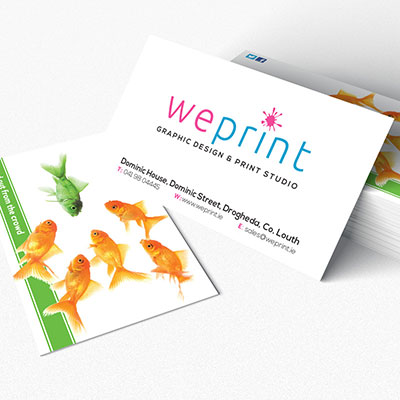 1. Important information
This is the most basic part to think about, but it's surprising how often we overlook the most basic elements of a business card design and forget to include some of the most imortant information. Your design will vary depending on the nature of your business. The most important message to include in any form of advertising, business card or calling card is who you are, where you are and what you do. You would be surprised at the amount of great business card designs we receive for printing that include everything other than a clear statement of what the business or individual is offering. There is little point in telling people how to contact you if they are left wondering why exactly they would want to do so in the first place. Remember,  your business card is like a mini advert in your customers wallet so use it to get your potential customer interested in knowing more about you. At it's most basic, your business card design should include the following:
The name of your business
Your business address
Your own name
Your contact number
Your email address.
You might also want to include things such as social media icons or a catchy tag line. If you have a company logo, be sure to include this too.
2. Make sure the text is readable
Make sure the information you do include is clearly legible and easy to read. Use a plain font in a colour that stands out clearly against the background colour. Black against a white background works best and is a popular option unless the overall design, or your particular style of branding dictates otherwise. You might also want to print your name in a larger size and possibly in bold to make it stand out against the rest of the text. Ideally, your font size should be 14pt or bigger to ensure a clear, easily readable business card. Keep in mind also, that a design thats looks amazing on your monitor may not look so sharp in the finished print so it's important to use the correct font sizes and styles from the outset.
3. Think about your colour scheme
In most cases, your corporate branding will dictate the colour scheme of your business card. All printed work is produced using CMYK  and it's important to ensure your artwork is saved to the correct colour mode. You should always remember to select the colour mode at the outset of your design to avoid any color variations that might occur if you change the colour mode afterwards. Your overall colour scheme should be consistant with your company logo or any corporate colours you use elsewhere in your business, social media profiles or advertising.
If you don't already have a colour scheme, use colours that are aesthetically pleasing and easy on the eye. Try to pick colours that complement each other and sit well together in your design. There are a multitude of free online tools available such as ColourLovers or Hailpixel (I personally love this one) to help you choose colour schemes and create a colour pallette you can use througout your business branding and corporate designs. Choosing a colour pallette early on and using it consistently will create a strong brand image and make your business look truly professional.
4. One side or two?
The choice to print one or two sides of your business card often just comes down to cost. While it is cheaper to opt for single sided business cards, the cost saving is only marginal so if your budget allows, it is often worth printing on both sides if it means a better overall design. Many people use one side to convey a message, opening statement or a catchy tagline and use the reverse side for the contact details.
5. Try to avoid using borders
When designing your business card, it's important to remember the limitations of the print process and equipment and create your design accordingly. A common problem with printing business cards arises when a border is included in the design. Printing equipment often works to tolerances of as much as +/- 1 or 2mm which means the final cut can be misplaced by this amount as each individual card or sheet is printed and cut. In normal circumstances this is an acceptable tolerance and the variation isn't even noticed in the final print. But when there is a 3mm border with 1 or 2mm missing from one side of the card, the final print will be a mess. It is best practice to avoid the use of borders, especially when the print area is as small as that of a business card.
6. Set your design up for print
When you set out to design your business card you should begin by ensuring certain parameters and settings are correctly set up for printing. You will need to correctly size your artboard, which in the case of a standard business card is 85mm x 55mm. You will need to allow for bleed (3mm) and ensure your text and design elements are within the safe zone. The safe zone is usually 4-5mm from the inside edge of the finished print size. This ensures none of your design is cut off during final finishing and cutting. It is important to set these parameters at the outset of your design to ensure your finished print is exactly as you had intended.
7. Save your artwork and send to print
Once you are happy with your design, it's time to click save and send it to print. Make sure that your finished design meets our technical guidelines and save your file as a PDF. A PDF document will ensure your artwork is printed exactly as you had intended and accurately reflects the design you have created on-screen.
---
Designing your own business card is often a cost effective way of creating a design that suits your business perfectly. You can find lots more information on technical specifications such as bleed, cut marks, safe zones, colour modes and general artwork guidelines in our Technical GuideLines Section. If you don't fancy designing it yourself, you can have us create a professional graphic design for you. Remember, the design cost is a once off outlay that can be used for subsequent orders so you don't need a new design every time. A professional business card design is a worthwhile investment to make your business or brand look really professional. When you have a design you love, you can Order Your Business Cards Here
Happy Printing! 🙂